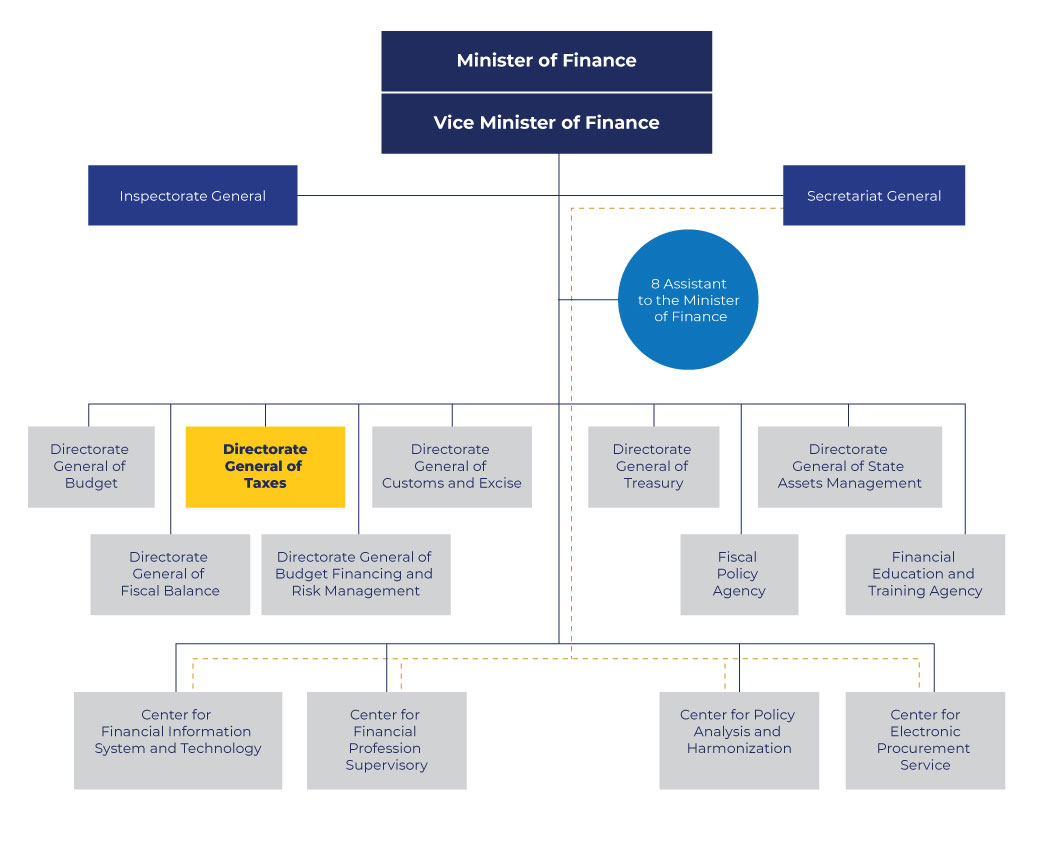 The Directorate General of Taxes is an echelon I unit under the Ministry of Finance tasked with formulating and implementing policies and technical standardization in taxation. The further description of the task includes the function:
Formulation of taxation policies;

Implementation of taxation policies;

Formulation of norms, standards, procedures, and criteria in the taxation area;

Provision of technical guidance and supervision in the taxation area;

Implementation of monitoring, evaluation, and reporting in the taxation area;

Implementation of the administration of the Directorate General of Taxes; and

implementation of other functions assigned by the Minister of Finance.
The scope of taxation area managed by the Directorate General of Taxes includes the administration of the collection/collection of central government taxes, namely Income Tax, Value Added Tax (VAT), Sales Tax on Luxury Goods, Land and Building Tax in excluding to the urban and rural sectors, and Stamp Duty. Local governments carry out the management of local taxes both at the provincial and district levels of the city.
Values
As a component of the Ministry of Finance, the Directorate General of Taxes embodies the Ministry of Finance's Values. Institutions, their leaders, and all of their workers serve, operate, and conduct themselves in accordance with the Values.
Value

Meaning

Key Behavior

INTEGRITY

Think, speak, behave, and act appropriately while adhering to a code of conduct and moral principles.

Be honest, sincere, and trustworthy, maintain your dignity, and avoid doing anything despicable.

PROFESSIONALISM

 

Work thoroughly and accurately according to the best competence with full responsibility and a high level of commitment.

Have extensive expertise and knowledge, as well as working from the heart

SYNERGY

Establish and maintain productive internal cooperation and cordial partnerships with stakeholders to produce valuable and qualified work.

Having positive attitudes, mutual trust, and respect, and identifying and implementing the best solution.

SERVICE

Provide satisfactory services to stakeholders in a heartfelt, transparent, timely, accurate, and safe manner.

Serving with stakeholder satisfaction in mind; being proactive and quick to respond

EXCELLENCE

Constantly strive to improve in all areas in order to be and provide the best.

Continuous improvement, spreading innovation and creativity
The Ministry of Finance Organization
The Ministry of Finance is the only ministry with a holding company structure and a vast, diverse organization.
Since the beginning of the Republic of Indonesia's independence, the Ministry of Finance's organizational structure has adapted to the needs of stakeholders and the changing circumstances.
From the commencement of independence, when the Ministry of Finance was established, to the present day, records of changes in its organizational structure are strewn throughout the Minister of Finance's decisions and regulations.
In the book "Organization of the Ministry of Finance from Time to Time," there is also a chart of the Organizational Structure of the existing Ministry of Finance, which has changed and been abolished primarily for echelon II and higher units at the head office, as well as information about the Minister of Finance from time to time.